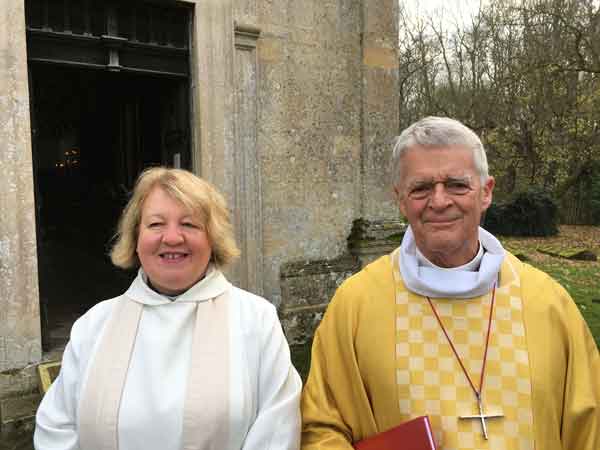 It was a very cold day on Saturday 2 December, but a group of hardy souls gathered at Little Gidding for the annual commemoration of Nicholas Ferrar, who died on 4 December 1637. It was a delight that the day was led by Bishop Frank Griswold (pictured above with the Revd Mandy Flaherty outside Little Gidding Church before the service), who has been a member of the Friends in its various incarnations since the 1960s. Having studied at Harvard, Bishop Frank first visited Little Gidding whilst a student at Oxford, and returning to the USA he became Bishop of Chicago, the Anglican co-Chair of ARCIC (the Anglican-Roman Catholic International Commission), and spent nine years as Presiding Bishop of the Episcopal Church (the American branch of the Anglican Communion).
Bishop Frank presided at the Eucharist and afterwards, from the warmth of Ferrar House, addressed the congregation, describing his first visit to Little Gidding, and the lifelong connection he and his wife Phoebe had maintained with Nicholas Ferrar and Little Gidding, often through the Society of the Companions of the Holy Cross, an organization of American women.
We were also delighted to have with us a number of his friends whose contributions have allowed the restoration of the windows of Little Gidding church to be completed as a thank-offering for his ministry.