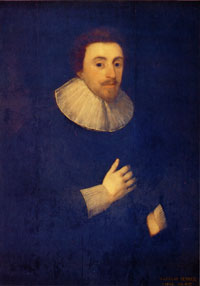 Born in London in 1592, Nicholas Ferrar was educated at Clare Hall (now 
Clare College
), Cambridge and elected a fellow there in 1610. From 1613 he travelled extensively on the continent for five years, and on his return worked with the Virginia Company, and was briefly elected to Parliament. In 1625, he moved to Little Gidding in Huntingdonshire, where he was joined by his brother and sister and their families and by his mother. They established together a community life of prayer, using
The Book of Common Prayer
, and a life of charitable works in the locality. He was ordained to the diaconate by William Laud the year they arrived. He wrote to his niece in 1631, 'I purpose and hope by God's grace to be to you not as a master but as a partner and fellow student.' This indicates the depth and feeling of the community life Nicholas and his family strove to maintain. Despite difficulties with the Puritans, who were suspicious and referred to them as the 'Arminian Nunnery', the community continued after the death of Nicholas on 4 December 1637, until his brother John and sister Susanna died twenty years later. The memory of Nicholas Ferrar and his family has continued to inspire Christians to lives of prayer, service and community.
Reproduced from Exciting Holiness, third edition, Canterbury Press, 1997, 2007. Used by permission.
Collect
Loving God, the Father of all,
whose servant Nicholas Ferrar
renounced ambition and wealth
to live in a household of faith and good work:
keep us in the right way of service to you
so that, feasting at the table in your household,
we may proclaim each day the coming of your kingdom;
through Jesus Christ your Son our Lord. Amen.
Further liturgical resources
For more prayers, hymns and readings see the page Commemorating Nicholas Ferrar.