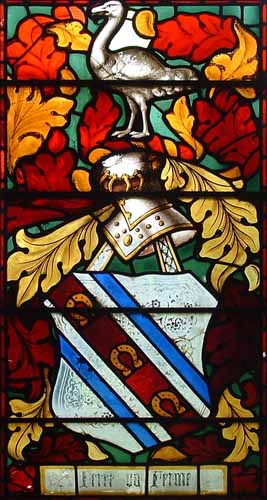 This stained glass window from Little Gidding Church purports to show the coat of arms of Nicholas Ferrar. In reality these are the arms recorded for another unrelated family, the Ferrers family of Fiddington in Gloucestershire.
See below
.
Argent on a bend gules cotised azure three horse shoes Or.
On a helm with a wreath Or and gules an ostrich argent, holding in its beak a horse shoe Or.
Motto: Ferré va Ferme
The horse shoes are a pun on the name Ferrar – since a farrier is one who shoes horses.
The crest shows an ostrich holding a horse shoe. Legend has it that the ostrich eats iron (in Shakespeare's Henry VI Part II Jack Cade threatens to 'make thee eat iron like an ostrich'), and in heraldry this is frequently in the form of a horse shoe.
The motto, a further pun on 'Ferrar' and on the horse shoes, is usually translated as 'Go firmly shod'.
As his father's second son, the arms of Nicholas should be differenced with a small crescent. The helmet shown is of a style normally used for a peer; a gentleman's helmet does not have gold bars.
Arms granted to Nicholas Ferrar senior in 1588
The Arms granted to Nicholas Ferrar's father, also called Nicholas, are rather different: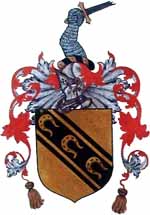 Or, on a bend cotised sable, three horse shoes also Or.
On a helm mantled gules doubled argent, with a wreath gold and sable, an arm, armed in mail, holding a broken sword argent, the hilt and pommel Or.
That is, the shield and horse shoes should be gold, and the bend (and its outlying bendlets) black. The mantling should be red with the lining silver (or white) as was customary in the sixteenth and seventeenth centuries, and the wreath gold and black, the principal colours of the shield. The crest is entirely different – an arm clutching a broken sword, rather than an ostrich. There is no motto. The correct arms are shown on the memorial plate to Nicholas's elder brother John on the north side of the chancel arch of the church and, in colour, in the grant to Nicholas senior.
It is strange that the nineteenth-century restorers, who took such pains over their work, managed to insert the coat of arms of an unrelated family, especially as the memorial plate to John Ferrar was presumably to hand.
Related coats of arms
The Ferrar family claimed to have been closely related to Robert Ferrar, Bishop of St Davids, who was burned at the stake in Carmarthen on 30 March 1555, in the reign of Mary I. Robert Ferrar was born around the year 1500 at Ewood in Halifax in Yorkshire. His Arms are given in Bedford's The Blazon of Episcopacy as:
Or, on a bend engrailed sable, three horse shoes argent.
Variants of the Ferrar name are common in Halifax. In 1609 one John Farrer of Croxton in Lincolnshire and of Ewood, near Halifax received a confirmation of Arms from William Camden, Clarenceux King of Arms:
Argent, on a bend engrailed sable, three horse shoes of the field; and for the crest, on a wreath of the colours, a horse shoe argent, between two wings.
This shield is a slightly differenced version of those recorded for Bishop Robert Ferrar, with the shield colour changed from gold to silver.
Burke's General Armory has no entry for Ferrar, but it contains some twenty-eight entries for 'Ferrers' and a few more variants. These include the following, which bear some resemblance to the arms granted to Nicholas Ferrar senior. It should be noted that I have no evidence that any of these arms are older than those of Nicholas. Such evidence as there is rather suggests the opposite. For example the additions and comments on the General Armory made by Alfred Morant frequently record the date of a grant of arms, and in all cases these are later than Nicholas Ferrar.
Ferrers of Fiddington co. Glouc
Or, on a bend gu. cotised az. three horseshoes or. Crest – An ostrich ppr. holding in the beak a horseshoe ar.
This appears to be the coat of arms displayed in the window of Little Gidding Church. Although the shield colour is gold, whereas that in the window at Little Gidding is silver, such a minor discrepancy would not be considered sufficient distinction between the arms of unrelated families.
Ferrers (Skellingthorpe, co. Lincoln)
Ar. on a bend gu. cotised sa. three horseshoes of the field.
Ferrier (Boughton, near Liverpool)
Ar. on a bend sa. three horseshoes of the field.
Ferrior (Pearston and Hasguard Hall, co. Pembroke, a family of ancient Flemish descent, settled in that county since the reign of Henry VII)
Or, on a bend engr. double cotised sa. three horseshoes ar. Crest – A horseshoe winged ppr.
Ferris (Hawkhurst, co Kent, and Thackham co Sussex)
Erm. on a bend cotised gu. betw. a cross moline az. and an anchor erect sa. three horseshoes or. Crest – On a mount vert an ostrich ar. charged with a horseshoe sa. in the mouth a cross crosslet fitchée ar.
Bedford, W K Riland. The Blazon of Episcopacy. Oxford: at the Clarendon Press, second edition, 1897.
Burke, John. A General Armory of England, Scotland, and Ireland. London: Edward Christian, 1842, London: Harrison, 1882.
Humphery-Smith, Cecil, ed. General Armory Two: Alfred Morant's Additions and Corrections to Burke's General Armory. Baltimore: Genealogical Publishing Co., 1974. Notes and corrections on 10,000 arms recorded incorrectly in Burke's.