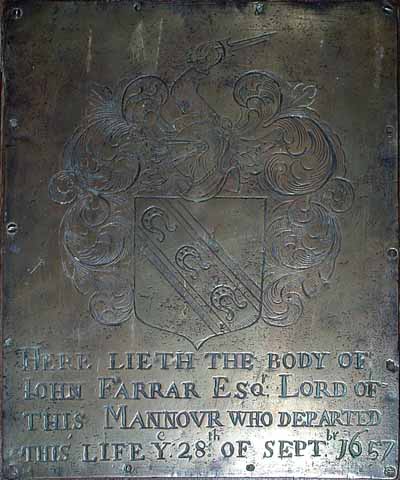 The memorial plate to Nicholas Ferrar's elder brother, John Ferrar, was originally fixed to his tombstone outside the church at Little Gidding, between the tomb of Nicholas and the west door of the church. It was later removed to the inside of the church for safe-keeping, and is placed on the north side of the chancel arch.
The plate shows John Ferrar's coat of arms. Unlike the arms shown in the window inserted in the nineteenth-century restoration, these are the correct arms of Ferrar, granted to the father of John and Nicholas, Nicholas Ferrar, in 1588.
Here lieth the body of John Farrar Esqr Lord of this Mannour who departed this life ye 28th of Septbr 1657


Photograph copyright © Simon Kershaw 2005. All rights reserved.