Saturday 25 September
This year's Pilgrimage will again be shorter than has been the custom over the last few years. It will begin at Little Gidding at 2pm, followed by a walk to Steeple Gidding and back to Little Gidding, with several pauses for reflection en route. The day will finish with a picnic tea at Little Gidding at about 4pm. The day will be led by Canon Fiona Brampton, Chaplain at Little Gidding.
The Pilgrimage will be recorded and a video made available shortly afterwards.
It would assist planning for the event if pilgrims could let us know they are intending to come by emailing pilgrimage@littlegidding.org.uk.
Please bring your own picnic; drinks will be provided.
Download flyer: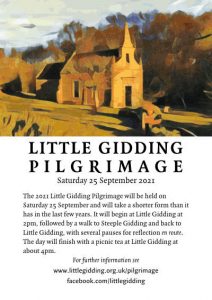 We hope that in 2022 it will be possible to resume the usual format for the Pilgrimage: a morning celebration of the Eucharist at Leighton Bromswold followed by a walk to Little Gidding for Evensong. Reserve the date: Saturday 14 May 2022.
Little Gidding Pilgrimage 2021