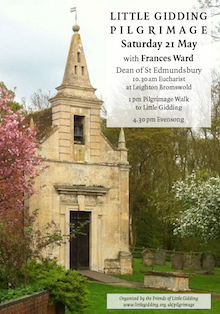 This year's Little Gidding Pilgrimage is just a few weeks away, on Saturday 21 May. Further details of the programme are now available and we invite you to let us know if you are coming.

We are delighted that this year's Pilgrimage will be led by the Very Revd Dr Frances Ward, the Dean of St Edmundsbury, and also Chair of the Little Gidding Trust (which owns Ferrar House and the surrounding property).
A leaflet about the Pilgrimage is now available and can be downloaded here.
It is a great help if those intending to come can let us know, so that we are able to plan properly. Lunch at Leighton Bromswold and Tea at Ferrar House are available. A contribution of £10 per person is invited to cover the Pilgrimage costs including lunch and tea. Note that there will also be collections at the services at Leighton Bromswold and Little Gidding, which will go directly to support these two beautiful and historic churches. The Friends do not make any money from the Pilgrimage. but we hope that you will help us to cover the costs of the day, so that our funds can be used to support Little Gidding. If you are not already a member of the Friends you can further support this work by joining the Society. Details from our membership secretary, Sally Seaman, by email to membership@littlegidding.org.uk.
The provisional timetable for the day is:
10.30am: Eucharist at Leighton Bromswold
12 noon: lunch at Leighton Bromswold
1.00pm: First Station at the Hundred Stone at Leighton Bromswold
2.00pm: Second Station at Salome Wood
2.45pm: Third Station at Hamerton
3.45pm: Fourth Station at Steeple Gidding
4.15pm: Fifth Station at the Tomb of Nicholas Ferrar, followed by Evensong
5.30pm: Tea at Ferrar House.
After 1pm the timings are approximate, but we will do our best to stick to this schedule.
Little Gidding Pilgrimage 2016