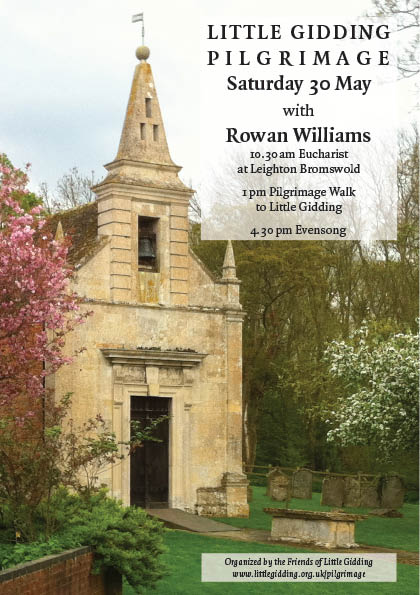 With just a few days until this year's Little Gidding Pilgrimage on Saturday, here are details for those who are coming, including minor changes to the programme for the day, details of parking and car sharing. We look forward very much to welcoming you all, along with our Pilgrimage leader, the Rt Revd Rowan Williams.

Behind the scenes lots has been going on to make the day run as smoothly as possible and we look forward to welcoming you all at Leighton Bromswold and Little Gidding next Saturday.
First, a big 'thank you' those who have let us know that they intend to be at the Pilgrimage. If for some reason you are now unable to come, or your numbers have changed, please do let us know that too. We are expecting quite a lot of people and we want everyone to complete the Pilgrimage safely and well-nourished, so it is a great help to have accurate numbers.
Programme and timings
Because of the number of people coming we have made one change to the programme for the day. Evensong will be held at the fourth station, at Steeple Gidding, where Nicholas Ferrar and his family attended Sunday services each week. From there we will move to the final station around Nicholas's tomb at Little Gidding. Afterwards there will be plenty of opportunity to visit the little church.
This change means that we anticipate the timetable for the day as:
10.30am: Eucharist at Leighton Bromswold
12 noon: lunch at Leighton Bromswold
1.00pm: First Station at the Hundred Stone at Leighton Bromswold
2.00pm: Second Station at Salome Wood
2.45pm: Third Station at Hamerton
3.45pm: Fourth Station and Evensong at Steeple Gidding
5.00pm: Fifth Station at Little Gidding, followed by Tea
After 1pm the timings are approximate, but we will do our best to stick to this schedule.
Parking
If you are coming by car, we urge you to share transport wherever possible. There will be a lot of cars and parking will be at a premium. On arrival at Leighton Bromswold, marshals will direct you to parking spaces – please follow their directions. We may ask some early arrivals to leave any passengers at Leighton Bromswold and to take their vehicles to Little Gidding. We will then bring the drivers back. This will both reduce the number of cars at Leighton Bromswold, and also give us some vehicles at Little Gidding to help transport other drivers back to Leighton Bromswold at the end of the day.
Lifts
A few people have asked if it is possible for them to be picked up or dropped back. In particular I am looking for someone who can pick a couple up from Peterborough Station, and for lifts for two pairs of people back to Cambridge. If you might be able to help please contact me directly chair@littlegidding.org.uk.
Road Safety
With the numbers of people we need to be careful about road safety during the walk. The Highway Code says that large groups of organized walkers should walk on the left and we ask that people do so. More detailed advice will be given on the day. Please note that everyone walks at their own risk.
We know that some of you will not be able to walk the whole route, and are planning to travel by car. In order to reduce the amount of traffic, we ask that wherever possible you share vehicles. This can be arranged on the day. There will be at least one minibus able to carry people between the stations. This has the added advantage that you will not be journeying alone – the Pilgrimage is a communal experience with lots of opportunity to meet and talk with a variety of other pilgrims, friends old and new.
Costs
Many of you have booked lunch and tea. Lunch is now fully-booked so I'm afraid we can't take any more orders for lunch, but we can still accommodate more at tea. The costs are £5 for lunch and £3 for tea. You are of course welcome to bring a packed lunch to eat at Leighton Bromswold.
We also ask for a donation towards the costs of the Pilgrimage: the suggested donation is £2 per person. Alternatively, if you are not already a member of the Friends of Little Gidding, you may wish to consider joining. Please speak to Sally Seaman (Membership Secretary membership@littlegidding.org.uk or contact us via our website www.littlegidding.org.uk or facebook.com/littlegidding. Membership is £15 a year. The Friends help support the maintenance of Little Gidding Church and its environs, and support the work of Ferrar House. The Friends also receive news about events at Little Gidding including the Pilgrimage, Nicholas Ferrar Day and the annual Eliot festival.
Evening Concert
Susanna Ferrar has arranged a concert in Little Gidding Church at 6pm after the Pilgrimage. All are welcome to stay. Caroline Kraabel, Neil Metcalfe and Susanna Ferrar will be playing interpretations of scores provided by Renée Baker. More details on Facebook. There will be a retiring collection which will be given to Little Gidding Church.
Little Gidding Pilgrimage 2015