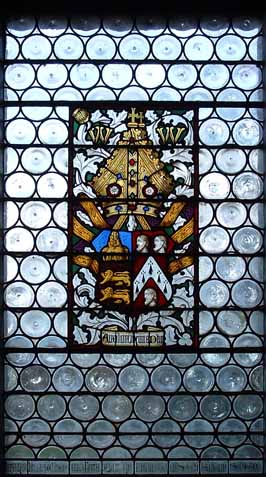 John Williams was Bishop of Lincoln, in which diocese Little Gidding lay. Huntingdonshire, including Little Gidding, was not transferred to the diocese of Ely until the nineteenth century.
At the base of the window is the inscription Insignia Joannis Williams amici Ferrariorum, ep Lincoln ab ão S 1621 ad ann S 1641
(The arms of John Williams friend of the Ferrars, Bishop of Lincoln from the Year of the Saviour 1621 to the Year of the Saviour 1641)
The central panel depicts the coat of arms of Williams as Bishop of Lincoln. The Arms of the See of Lincoln are shown impaling Williams's personal arms. The shield is ensigned with a mitre: at that time English bishops did not wear the mitre, but it was still used heraldically.
Dexter, the See of Lincoln: Gules two lions passant guardant in pale Or, and on a chief azure the Virgin and child Or;
impaling, sinister, for Williams: Gules a chevron ermine between three men's heads proper.
The shield is ensigned with a bishop's mitre.
Motto: Auxilium meum a Domino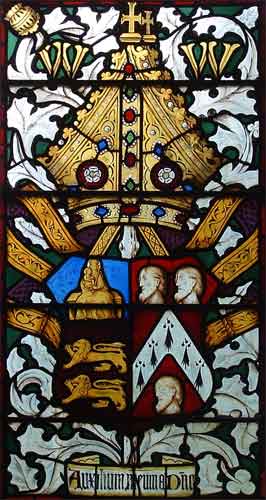 The motto is from the Vulgate (the Latin version of the Bible) version of Psalm 120 verse 2, which is Psalm 121 in the Hebrew numbering. The Prayer Book version renders this as 'My help cometh even from the Lord'. In the window Domino is abbreviated as Dño.
The lions on the shield are shown incorrectly as passant, rather than passant guardant; in other words they should have their faces turned to look out of the shield, rather than looking forwards.
Williams was Bishop of Lincoln from 1621 to 1641, and Archbishop of York from 1641 until his death in 1650 (although episcopacy was abolished by Parliament in 1646). See this entry at Wikipedia and this page at St John's College, Cambridge.