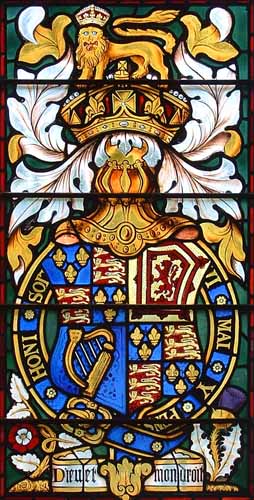 Charles I was king of England and Scotland at the time of Nicholas Ferrar. He visited the community at Little Gidding three times.
This window shows the coat of arms of King Charles. The shield combines the arms of the kingdoms of France, England, Scotland and Ireland, since at that time the English kings still claimed the throne of France. Normally the arms would be supported by a crowned lion and a chained unicorn, but the shape of the window does not allow room for these.
Quarterly: First and Fourth grand quarters: quarterly 1 and 4 azure three fleurs de lys Or (France modern), 2 and 3 gules three lions passant guardant Or (England); Second, Or, a lion rampant within a double tressure flory counterflory gules (Scotland); Third, azure a harp Or, stringed argent (Ireland).
The shield is encircled by the Garter (blue, with gold lettering 'Honi soit qui mal y pense').
On a gold helm affronty, mantled gold doubled ermine, standing on a Royal Crown a lion statant guardant Or, royally crowned.
Motto: Dieu et mon droit.
The Garter motto Honi soit qui mal y pense means 'Evil to him who thinks evil of it'. The royal motto Dieu et mon droit means 'God and my right' and was in origin a proclamation of the king's right to the French throne.
The lining of the mantling is incorrectly shown as silver or white, rather than ermine fur. An English Tudor Rose and a Scottish Thistle are shown at the base of the window. The crown is shown in the style used by King Charles, with four arches rather than the usual two.
'Like a broken king': Charles I and Little Gidding
King Charles visited the Ferrars at Little Gidding three times, and also commissioned from them several 'biblical harmonies'.
In May 1633, on his way to Scotland, he stopped near Little Gidding. The whole family went out to meet him. He borrowed one of their Gospel Harmonies, returning it with his own notes in the margins, and suggesting that they produce another harmony, of the books of Kings and Chronicles.
Nicholas Ferrar died in 1637, but King Charles came twice more to Little Gidding.
In 1642 he arrived with the Prince of Wales and Prince Rupert, and donated to the community five pounds which he had won from the princes at cards the previous night. When the community prayed God to bless and defend him he exclaimed, 'Pray, pray for my safe and speedy return.'
King Charles was indeed to return to Little Gidding once more, in May 1646. Now, though, he was fleeing from defeat at the Battle of Naseby. The Civil War was lost and he came at night, 'a broken king' (as Eliot writes). John Ferrar, loyal and discreet, hid him nearby at Coppingford for two days and then got him away to Stamford.
He surrendered to the Scots army in Nottinghamshire a few days later. Subsequently the Scots handed him over to the English army, and after a show trial, Charles I was executed in Whitehall on 30 January 1649.